Moshava Ba'ir's Preschool Camp combines the exciting MBT ruach and activities with an enriching preschool education. Our daily structure accommodates the needs of our youngest campers (children entering Nursery and JK). Summer 2023 is a wonderful opportunity for preschoolers to socialize and learn in a safe and warm school setting with camp ruach!
What will the program look like?
Campers will have three activities (peulot) with our specialty staff throughout each day. Each week there will be a special event, surprise or on campus activity such as a petting zoo, magic show or ice cream truck! Activities during non-specialty time will be led by an Early Childhood Educator in the classroom or playground.
Session 1: July 3 – July 14
Session 2: July 17 – July 28
Session 3: July 31 – August 11
Session 4: August 14 –August 18
Full Day Program 
9am-4pm
Session 1: $850
Session 2: $850
Session 3: $875
Session 4: $425
Half Day Program
9am-12:30pm
Session 1: $625
Session 2: $625
Session 3: $625
Session 4: $312.50
Full Summer: $1650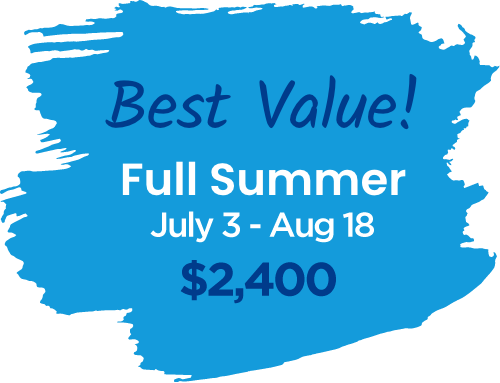 Supervised by
ECE Professionals
Our camp caters to children aged 2-4

Daily Programing
9am - 4pm

Located at Shaarei Shomayim Synagogue
470 Glencairn Avenue, North York,
ON M5N 1V8, Canada
SUMMER 2022 PRESCHOOL CAMP CALENDAR
We would love to have your child at our camp!